The CE marking (European Conformity marking) attests that the product meets the European Union rules and requirements for manufacturing and commercial marketing.


In April 2018 the New PPE Regulation EU 2016/425 has amended and replaced the previous PPE Directive 89/686/EEC. The new PPE regulation now specifies three classes based on risk definitions:
– CAT I: minimal risk, self-certified;
– CAT II: intermediate risks (other than those listed in Categories I and III), certified by approved body;
– CAT III: very serious risks, which may cause death or irreversible damage to health; certified by approved body.
Only the approved bodies may issue a CE mark for PPE CAT II and CAT III. Without a proper CE mark the gloves may not be sold or used.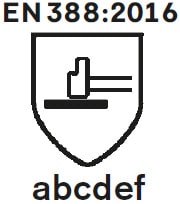 A – Abrasion resistance (cycles): 1-4;
B – Blade cut resistance (coup test / index): 1-4;
C – Tear resistance (Newton): 1-5;
D – Puncture resistance (Newton): 1-4;
E – EN ISO cut resistance (Newton): A-F;
F – EN impact protection: pass (P) or fail (F)
Level "x" can also be applied for A through E above, which means "not tested" or "not applicable".