Reflexx Care Line has been developed to respond in an innovative way and with high quality standards to your hands NUTRITION and PROTECTION needs.
The Care Line is composed by four unique products characterized by the presence of special natural and non-natural elements. Two gloves with colloidal oatmeal, one glove with aloe vera and one nitrile glove accelerators free.
COLLOIDAL OATMEAL
Finely ground, oat can be reduced to colloidal oatmeal, a precious ally in cosmetic. Since 2000 B.C. Arabs, Egyptians and beyond them, Greeks and Romans knew well and exploited the soothing and moisturizing properties of colloidal oatmeal baths.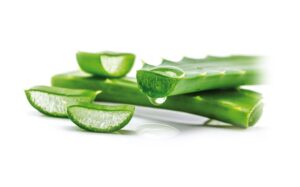 ALOE VERA
Among the therapeutic properties of the Aloe Vera many are related to the skin health. The jelly-like subtance extracted from this plant helps both wound healing and skin hydration as well as relieving itching or burning sensation.

PRODUCTION ACCELERATORS
Do you often have your hands irritated, reddened, swollen though not using latex gloves? You may have an allergy to chemical additives (eg thiurames, carbamates, benzothiazoles) used as accelerating agents during the production process of nitrile gloves.
Marketing Material